Let's be honest, this year's VMAs were terrible. If it wasn't for a few of the stars who attended providing some LOLs and decent moments, it would've been insufferable, so let's pay homage to those who kept us going during Sunday night's shambles...
She's the Disney star turned country star turned kind-of-pop star turned pretty much porn star, who managed to get everyone talking during her risque performance with Robin 'I Know You Want It' Thicke on Sunday night. Miley Cyrus bared all (almost quite literally) and seems to think that proving that you've grown up consists of acting promiscuously, if you could call it that.
After rocking a classic Gwen-Stefani-style look on the red carpet, she went on to perform on stage in barely anything. This comes as no surprise if you've seen the video to her comeback single 'We Can't Stop,' or just kept up to date with her in general, but with shocking vocals and hilariously bad 'erotic' movements, including what she thinks is twerking against Robin Thicke's own little 'blurred line,' there was a lot to write home about. A personal highlight for me however, were the dancing bears, that was cute, that was innocent enough for me.
Opening this years' show was Lady Gaga, who, put simply - had a white square on her head for the first minute or so. Her vocals and performance were a little bit shaky, which is understandable as it was the first time she's performed in, well, ages. After some slightly messy costume changes, as she time travelled through her past album eras, she turned into the mermaid from her latest video, and to be honest, looked freaking amazing.
As she then proceeded to sit in the audience wearing nothing but the shells, which were just about covering her modesty, she went on to become Auntie Gaga, after One Direction were booed during their acceptance speech. Rushing backstage and talking to the boys afterwards, she said she didn't want to be there anymore, and they deserved all of their success and other inspirational stuff - which must've been hard to take seriously from a near-naked 27 year old with a large shells on her boobs.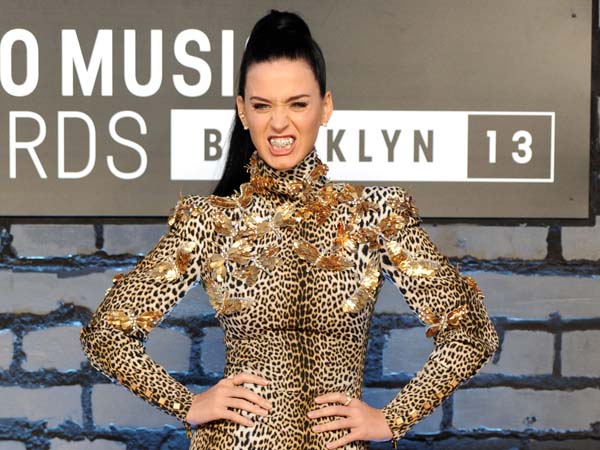 Working the red carpet with a set of grills, Katy Perry provided many-a-LOL, and went on to close the show with a surprisingly amazing themed performance of her new single 'Roar.' It was weird to not see her in the audience however, especially after all the hopeful-which-then-turned-into-no-drama of Katy and Gaga sitting together, but it all helped generate hype for Perry's big surprise-location performance.
She's caused a bit of a shitstorm with her actions on Sunday, which seems to just, always happen at award ceremonies nowadays, but Taylor Swift made the headlines after apparently mouthing 'Shut The F**k Up' during One Direction's speech. There's been all kinds of rumours and theories about her mocking her famous curly-haired ex, and this wasn't helped by her thanking the person who inspired 'I Knew You Were Trouble' - all eyes on Harry Styles. Even though... I'm pretty sure it wasn't him.
This is what then frustrates me - the press/general public who aren't maybe as in the know will just assume it was about Harry, as the song came out during the time the pair split up. Bare in mind, the song was on an album out a few months before this, which would've been written/produced a little while before that too... surely it would've been his predecessor?
On the flipside, Taylor threw some serious shapes as her trademark awkward dancing was shown regularly through the show - you've got to love her.
It was a damn good Justin Timberlake medley, wasn't it? N'Sync needed more stage time though...
She didn't really have any reason to be there, and Rihanna couldn't give less of a shit as she missed the red carpet and arrived at the ceremony in a t'shirt and jeans. She flashed a few smiles for a few pictures but her constant lifeless reaction shots were also hilarious - she was pretty much the physical representation of what we were all feeling watching, just with an added mullet...